Archives
Archive for October, 2013
There we go. First off I wanna say thanks to the approximately hundred people who have pre-ordered this digipak. Completely amazing and I salute you all. Enough pre-orders have come in to be able to print this beautiful bastard and have "TCRA" come alive in a new form. I have the master CD ready for the manufacturing company and will just need to check it thoroughly before sending it to them, which will take a few days. After that is done, "TCRA" will be sent for the manufacturing.
This also means that there's a very limited amount of CD's left now in case anyone haven't ordered yet and definitely wants one. As mentioned, there will only be 200 printed – and that's that. Sure, the deadline is still 4 weeks away, but when these CD's are sold out – they are sold out, and that's the end of it.
From now on I will keep you informed at our Facebook page (that's a link, click it!) as for how many CD's there are left. I will update as soon as an order comes in, so keep an eye out for that.
Everything should be ready to be sent out within a month if everything goes according to plan. I will keep you updated as we go along, as always.
Again, thank you so very much for supporting The Hate. This whole thing drives me even more towards achieving absolute musical perfection when it comes to the coming album. You will see.
If I manage to get 35-40 more pre-orders of the digipak, the costs for printing 200 copies (and having them sent out) will most likely be covered, which is fantastic news. Sure, there will be plenty of CD's unsold if no one else buys it after that, but hey… at least the costs for everything is cleared then, which is the most important issue here. If this happens shortly (still a month until deadline – but I will not print more than 200 copies either way coz we won't get rid of that many, if even 200) I can actually send the damn thing to the printing company and save a few weeks of manufacturing time. meaning I will get the discs sent out faster than expected.
As soon as I get those 35-40 orders in I will keep everyone informed as for how many copies are left for sale (a bunch is saved for everyone involved with the creation of the actual recording of course) so you still know if you have the chance of purchasing it later on. But it won't be more than 200 printed, as mentioned numerous times.
All the info needed to pre-order in this link.
So, spread the word and make this happen, Haters!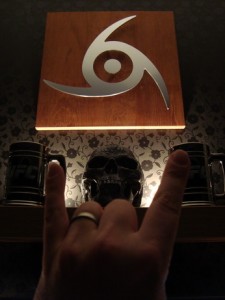 Update November 1st: We are running out of copies now, so if you wanna know how many CD's are still available – keep a close eye on our Facebook page as we update there as soon as an order comes in. Now over to the original post:
The horns are raised in honor of The Birth Of "The Cadaverous Retaliation Agenda" In Digipak Form!
You asked for "TCRA" in a physical Digipak version and now you'll get it. If you have missed out on this whole thing, I suggest you read these posts so you know what it's all about (it deals with everything concerning this, postage rates, included booklet and so forth, so please take your time and read them all):
1. Do you want a real digipak copy of "TCRA"?
3. The digipak is coming, like you requested!
Judging from the e-mails I have gotten from you, and the comments over at our forums and our Facebook you also seem to prefer a pre-ordering/deadline system for this, which is exactly how I will work it then.
I think 5 weeks of being able to pre-order is enough time to find out about this and also take actions. That, and I also don't want people to wait around for their copy longer than it's really necessary. So the deadline for pre-ordering and for paying for your copy of this very limited (100-150 copies is the reasonable amount as it looks) is:
November 30th, 2013.
Prices (including shipping and packaging to everywhere in the world):
190 SEK
22 Euro
30 US Dollars
Different ways to pay:
1. PayPal: theprojecthate@gmail.com. Make a note saying "DIGIPAK".
2. Make a transaction to the TPH bank account:
Account holder: K. Philipson
Account for Swedes:
8164-6,4 234 547-0
Account for foreigners:
IBAN: SE60 8000 0816 4600 4234 5470
BIC: SWEDSESS
Bank address:
Lekebergs Sparbank
Box 66
716 21 Fjugesta
Sweden
3. If you wanna pay by snailmail, contact me thru theprojecthate@gmail.com and we'll sort the details, ok?
IMPORTANT INFO:
Just to be safe, e-mail me at theprojecthate@gmail.com after you have pre-ordered and lemme know how you paid so I can send you a confirmation mail. This way you know the order is confirmed and that nothing fucked up along the way. If you hear nothing from me in a day or two, something is wrong. Contact me again in that case. I always reply. Always.
Last off…
As I have said before, never did I think that "TCRA" would come alive for a second time through you guys, but it is happening. I can NEVER thank you enough for the support you show and how you are keeping TPH alive (especially now when we have abandoned the record industry) by donating when it's time for new albums and so on. It's incredible to see and it pushes me forward more than you'd ever know.
I will do music always, but this way you guys get to hear what me and my fellow musicians featured on every recording can do as well.
Last off: people are asking already about donating for the next album recording. I appreciate that so much, but let's not get to that right now since it's a long time still before it's finished. The TPH DONATION EXPERIMENT 2 will be announced when the time is right. There's enough stuff to deal with right now as it is with this Digipak project.
Spread the word about this whole thing if you feel like it.
You all have my deepest gratitude.
This went faster than expected which once again shows us that we truly have some incredible people supporting us.
Thanx to the e-mails and comments over at our Facebook page it seems it's the right thing to do – to print this very limited edition of "TCRA" as a digipak (everything is explained in the post below, so read that if you haven't already). I have no doubts we'll meet the 100 planned digipaks at least, so that's what I am aiming for and anything beyond that is just a bonus and hopefully the printing company can help me minimize the quantity to whatever's most reasonable according to the pre-orders.
"The Cadaverous Retaliation Agenda" – digipak arriving in your mailbox in a couple of months. That feels weird saying, but it also feels absolutely righteous.
Most people seem to think that having a deadline for said pre-ordering is the way to go, though this means you'll have to wait for a while before it ends up in your mailbox, but you already know this and seem fine with it, which is what's most important when we do it like this.
Give me a little time and I will get back with the deadline as well as all information for ordering your piece of this disc. I never envisioned "TCRA" coming to life a second time in this format, but you guys asked for it and you guys make it happen and it feels amazing.
I can't thank you enough, you push me even further in my quest for musical perfection with TPH. You'll see when the next one arrives, whenever that is. But for now I concentrate on doing this digipak and continue to compose the massive work left on the coming masterpiece.
As said, I can't thank you enough.
After checking out prices for the eventual printing of "TCRA" I have ended up with a few options since it will cost quite a bit of money to make this happen, meaning I am depending on pre-orders and pre-orders only. Going thru the replies from the donators that were mailed last week it seems like some 70-80 of you would support the manufacturing of this disc. That leaves me with the option of printing a 100 discs (considering there are some 15-20 people included on the album deserving of a free copy, which goes without saying).
Then we get to this:
1. 100 digipaks printed… This means there would be pretty much no extra digipaks for sale to anyone else but the ones who supported the creation of "TCRA" by donating to the cause and who replied to the e-mail saying they'd definitely buy one.
2. I take a chance and print 200 copies, hoping that some 100 other people want to buy the damn thing – something I don't really see happening, which in the end would leave me with some 100 discs that I can't really afford having around collecting nothing but dust.
3. I could set a deadline for pre-orders (a month? Two? Ideas?) and simply print what's closest (and possible for the printing company) to the amount of pre-orders. It's not like I feel I'll go thru this process again later on so it'll stay at this printed amount, meaning the digipak will be limited as fuck and that's that.
Rundown: This is for a full-color digipak with a 12 page full-color booklet including lyrics, the usual credits and so forth, all printed on glossy high quality paper (you can see an example of the product in the picture attached here on the top left somewhere).
The digipak itself weighs close to 500 grams with the included booklet, meaning postage rates increase as soon as you go above 250 grams. Most of the interested parties come from abroad, meaning it's a hella lot more expensive to send stuff there than within Sweden.
Example:
CD to outside Europe – app. 8 Euros/10 dollars.
CD within Europe – app. 7 Euros/8 dollars
CD wihin Sweden – app. 3 Euros/4 dollars
This leaves me wondering: what are the odds of getting rid of almost 200 CD's? If you are one of those people who didn't participate in The Experiment but definitely would wanna own this digipak – please let us know in here or thru theprojecthate@gmail.com. This is just to get an idea if this is actually doable to begin with.
What would be a reasonable price for this product? Is 20 Euro's and the equivalent in U.S. Dollars too much? This is including postage and packaging as explained above.
Naturally, in the long-run, it's way cheaper to print a 1000 CD's right away, but we can't really do that for very obvious reasons.
I just don't know if this is worth all the work that will go down with it, if it's even possible to get rid of some 170/180 CD's. It might not sound as too fucken many CD's to begin with, but in these days most people simply do not care about physical discs, you know.
I don't feel like going bankrupt in the process even though I know that "TCRA" is a masterpiece. But I have no need to listen to a 100 unsold CD's just for the hell of it haha…
It will take a while before you'd get your copy since I naturally have to keep an eye on the pre-orders and how they tally up etc, but by know you know how I work and when I say I will do something – I do it.
I wanna hear you speak up and lemme know your opinions and if you would assist in getting this done by pre-ordering if it comes to that. Meaning your e-mails (now I mean from the ones who didn't already reply to me a few days ago) or comments over at our Facebook or forums are of utter importance to me and the eventual creation of a digipak for "The Cadaverous Retaliation Agenda". For sure, all of you can reply in here – but please mention if you already participated in The Experiment or not so I don't put you in the numbers twice, if you know what you mean.
Do not pre-order/pay anything now. If I see this as something that will work out – then we're off doing it. Becoz a bunch of you have asked for it. I'll leave this for a couple of days and see what happens. Spread the word and to put it mildly – it'll be interesting to see what comes out of everything.
I thank you, guys and gals, for supporting The Hate. No matter if this happens or not – you all made "TCRA" come alive to begin with.