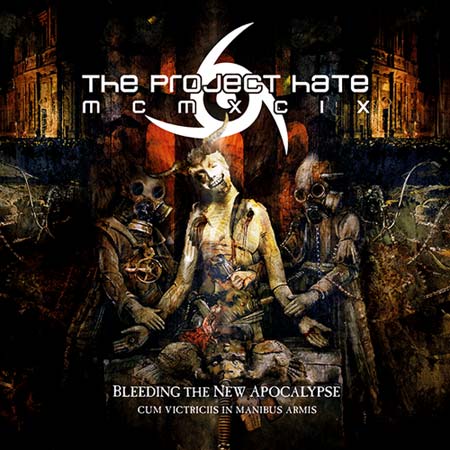 About the recording
It took quite some time to start writing for the 7th album. "The Lustrate Process" is a hell of an album and to force inspiration to come to be able to beat it wouldn't be a wise choice. So K just waited until it happened… And it's safe to say it happened. After being very, very satisifed with said album and feeling that to be able to top it some stuff needed to change, 2010 started off with a bang no one saw coming. Goodbye Jonna (vocals) and goodbye Thomas (drums). Welcome powerhouse vocalist Ruby Roque and drummer  Tobben Gustafsson. With these guys on board we entered a new stage, and it's all shown on "Bleeding the new Apocalypse (Cum Victriciis In Manibus Armis)".
After disinterest in TPH, guitarist Anders was dismissed and K did all the music himself, something he's not exactly unfamiliar with. Writing the music and lyrics as well as recording the guitars and bass in The Dungeon happened during the summer of 2010. Vocals and drums were laid down during the fall of the same year. Once again utilizing the services of guest musicians Mike Wead (solos) and Christian Älvestam (vocals), as well as legendary Candlemass bassist Leif Edling (vocals) TPH has delivered something beyond the normal standards with "Bleeding the new Apocalypse (Cum Victriciis In Manibus Armis)". All this is shown over 6 majestic symphonies, clocking in at 66 minutes and 6 seconds according to the mastering program, courtesy of Dan Swanö and Unisound where the album was finalized.
About the title
Once again K had something in mind and with J suggesting a very small change – the first part of the title was decided upon. The Latin phrase is closely connected to TPH, but you'll have to figure it out yourself.
About the cover
Once again Marko Saarelainen creates something absolutely astonishing. There's a very dark feeling to this piece of work and it absolutely represents the vibe of the album; diabolic and beautiful, yet grotesque. As usual he drew inspiration from titles and whatnot – coming up with this masterpiece to give the album its visual appearance.