Update: If you wanna see if and what levels we reach monetary wise you should keep an eye on our Facebook and Instagram pages at all times.
Yeah, you saw the picture and for a second there you thought it was an obituary, now didn't you?
2019, Haters… TPH has been around for 20 goddamn years! We obviously started "for real" in 1999 even though the only TPH demo ever made was recorded in November 1998, but TPH as a concept started in 1999 and during these 20 years we have released 12 albums of the best music ever to hit humanity in its nutsack.
Goddamn that feels fucken good and I'm so proud of this.
I brought this beast to life when I was 26 years old. Basically a toddler when you think about it. I had this idea of creating something that didn't really exist, with the means I had at hand at the time (which weren't many). A guitar, a drum machine, a sequencer and a keyboard. Old school as fuuuuuck! On top of that I had an urge within me so strong it could move mountains (actually, that shit is impossible but you get the point), an urge to create something absolutely spectacular and unique.
That urge is now known as The Project Hate MCMXCIX.
A lot of things have changed since then but that urge never once started to fade, not even in the slightest. If anything, it has only grown more intense inside me with each and every album over the years. This is what I am in music form. It's something I have to do and something I feel destined to do. It's my calling.
As if you didn't know that by now.
To be honest, TPH is a message obviously not heard by many… but it is appreciated to an amazing extent by those who have embraced it, it seems. Or else it wouldn't be here after 20 years considering how it's being conceived today as I decided to walk away from the record label industry some 8 years ago and started to do this all by myself. Either way, thanx to Massacre Records, Threeman Recordings, StormVox and Season Of Mist for releasing some of our previous albums many moons ago. Sure, you all failed in getting TPH the recognition it deserves, but I guess you somewhat tried… so thanx!
And you know what? TPH couldn't have been done this way over the years without all the fantastic people that I have been working with for 2 decades and counting; everyone who's played a part in getting us to this point in one way or the other:
Mia Ståhl – vocals (1999-2002), Jo Enckell – vocals (2002-2010), Ruby Roque – vocals (2010-2013), Petter S. Freed– guitar (2002-2008), Anders Bertilsson – guitar (2009–2011), Michael Håkansson – bass (2005-2010), Daniel Moilanen – drums (2006-2007), Thomas Ohlsson – drums (2009-2010) and Tobben Gustafsson – drums (2010-2013).
Not to forget the billion of guests who have participated on the recordings… I truly can never thank you enough either, but I raise my glass to ya! All of you have helped me in reaching 2 decades of TPH music. Be proud of yourselves, coz you should be. It's not a birth right to be a part of something truly unique, but you will always be just that. Keep that in mind.
Not to forget, for the last 8 years it definitely wouldn't have been possible to do TPH without the monetary support from you Haters when it comes to The TPH Donation Experiments, the very foundation that has funded the recordings of the finest albums in our "career". I can never thank you guys enough, but thank you so fucken much!
And as far as myself being able to upgrade the home studio equipment, buy better software etc and by that be able to push myself further and further playing- and composing wise… It's becoz of you people who buy limited edition merchandise; be it shirts, beanies or digipaks. It would have been absolutely impossible as well if it weren't for you heroes. Well, that and the fact I do fucken work a regular day job. Either way, I wouldn't be where I am today musically if you fucken bastards wouldn't have joined in for this ride of devilry at some point in time, that's for fucken sure.
It is humbling. Then again, I'm an extremely humble guy, you know. Even though I am King of all kinds of shit.
Anyways… to be able to realize my musical insanity with the people I do it with today; Jörgen Sandström (since day one!), Ellinor Asp, Lasse Johansson, Dirk Verbeuren and mixtering guru Dan Swanö (also since day one in some shape, way or form) is downright unfathomable to me. I truly feel (un)blessed. You people are absolutely amazing. It takes one to know one, you know. You have my deepest respect and gratitude.
So as far as obituaries go… well, fuck that noise! There's plenty of things to reveal at this very special point in time, so continue to bare with me for a while here…
You ready?
To celebrate this 20 year anniversary of TPH there will be some new limited edition merchandise coming soon, created by the masterful Seiya Ogino of www.oginodesign.com. And as always I will do pre-orders coz that's how I have to run this small entity known as TPH. Keep an eye on this page for the announcement when this stuff will be available, ok?
So… with all that praise, modesty and shit out of the way I can also announce that our latest masterpiece, "Death Ritual Covenant", is now (or very soon) available at all streaming platforms thanx to CD Baby. Go find it! You can also buy "Death Ritual Covenant" (and a few other albums of ours) over at CD Baby if you feel like it.
But if you wanna support my work directly with no middle hands, and get instrumental versions and whatnot in the process by doing so, you can purchase the digital downloads of "Death Ritual Covenant" right here:
And you know what? I never thought we'd see a digipak version of said recording, but you guys made it possible and the 300 printed copies are now sold out (or very close to be) so you need not ask about it. You should have bought it when you had the chance, goddamnit! Cheers to all of you awesome people who made this happen, it truly means a lot to me.
Last off I have to say that I can't think of a better way to celebrate 2 decades of Hate than to spend 2019 (at least, it all comes down to the other people's schedules and when I can pay them of course) recording the 13th album in our discography, what do you think?
When I said I'm pretty much getting the fuck off Facebook and Instagram to rather invest all of my time into creating music… it's exactly what I meant. And that's why there is already a 13th album's worth of material being worked on daily, eagerly anticipating its eventual birth later on just some 6 months after our latest beast "Death Ritual Covenant" was released.
By now you all know what this means…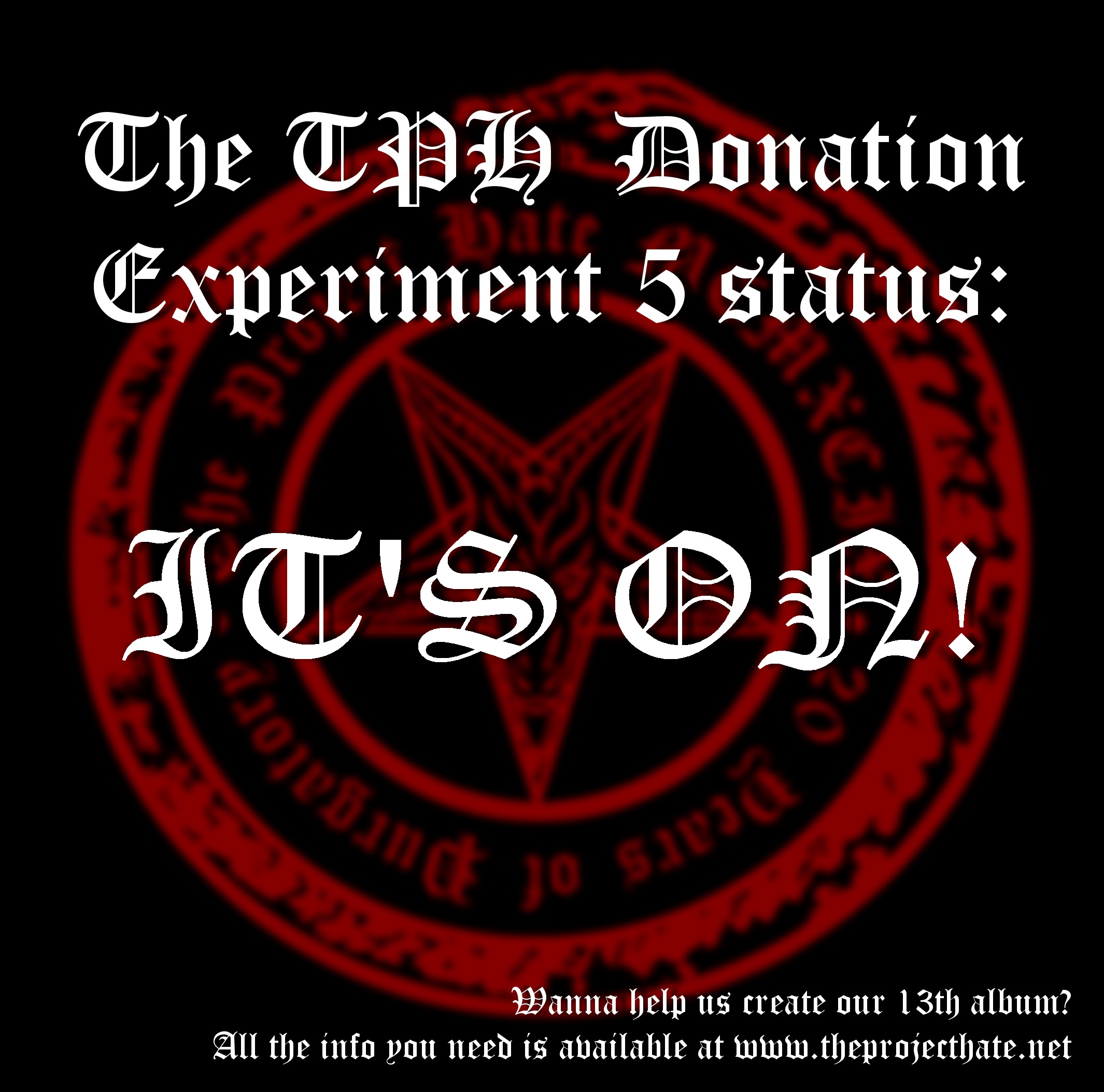 The 5th TPH Donation Experiment is here, just waiting to be a success so this 13th album can happen. You think you will make it work a 5th time? Judging from past experiments I'm hopeful, but I surely don't take anything for granted. Ever. If it should fail, all the money donated will go straight into my local cat shelter in Örebro, Sweden, as always. So either way, it's well invested money.
Wanna help me in making our 13th album?
A donation of 150 SEK to theprojecthate@gmail.com through PayPal will get you the following shit when/if the the 5th TPH Experiment is a success and the album is a reality:
1. CD MIX (FLAC)
2. CD MIX (MP3)
3. FULL DYNAMIC MIX (FLAC)
4. FULL DYNAMIC MIX (FLAC, INSTRUMENTAL VERSION)
Knowing that these experiments usually takes some 4-6 months to make a success, it feels like a smart move to fire it up right now so I can pay everyone involved to do their magic on the material as soon as they have the time to do so. But keep in mind that I plan to spend at least the remainder of 2019 with this album, meaning it will see the light of day in 2020. I'll keep you informed on the process as always, and I'll also make sure you're informed when we reach every $1000 level on our way towards the goal of $10000 needed to make this coming album a real thing.
Do I need to mention that the 6 songs I have written for our 13th album is fucken spectacular? Nah, I didn't think so. But to make sure you know what's up; the material is fucken spectacular!
Thanx for the amazing support, people. You are all TPH.
So, shall we make this happen?
Spread the word!