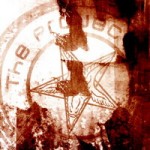 During the week I have picked out all the parts where Mike Wead will do his magic, which means another piece of the puzzle is completed. Furthermore I am currently working out where J and Ruby will sing as well as writing lyrics while at it. We are taking small steps every day towards completion of this album, our absolute finest hour. The vibe I get from listening to these songs is insane, and I can't wait to hear your opinions on it when you eventually get to devour it. Our long-faithful friend and graphics artist Marko Saarelainen already started working on the cover, which looks incredible (and quite disturbing) even at this early stage. And yes, you can have a preview of a very small piece of it:

Yes, you can't make out shit from that, just like we planned it. Wanna support TPH while we are working our asses off for you guys? Buy a shirt. Anyways, now I'll go back to writing lyrics and pick out vocal sections.
This is all turning out beautiful.