First off… take a look at this: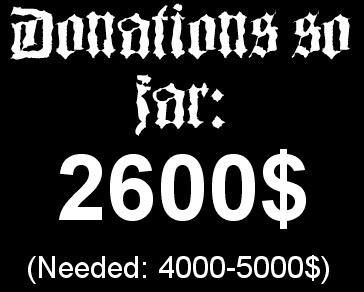 Just astonishing. With the 2 donations that came in today we have now reached half of what's needed for this coming album. I don't really know what to say except for "thank you so much for showing your support and spreading the word about The TPH Donation Experiment". Keep on getting the gospel out there and help us reach the target. You guys truly are amazing. There are still shirts left in case you wanna help us with funds for the recording. Just click this link and you'll find all the information you need to purchase one.
And now over to a short update about the song writing. I have spent the last week working on track 6 and things are turning out phenomenal. Still tons of work left before it's finished, but I am getting there (and it's not like we are in a hurry, you know). As I have said a million times before – we'll take our time with this album to really out-do ourselves and top everything we have ever done before. I will work my ass off to make this something else and by the sound of it, I am doing exactly that. I went thru the first 5 songs today for the first time in quite a while and it really struck me how we have entered another level with this coming monster. Can't wait to get these 2 last tracks finished so I can go back and really start the work with the "completed" songs. There's so much I wanna do with this one…Â  And I'll do it, with blood, sweat and tears. You'll see. More info down the road, just stay tuned.
Again, thanks for the support. It means the world to us.