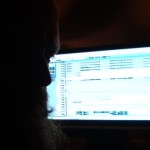 So, we are finally here. Or at least the big work is done, let's put it that way. Now we will start mixing this coming monster of an album. Swanö's about to be handed everything and will now be putting every inch of his soul into getting us a sound that will absolutely crush. We will spend a few weeks mixing this bastardization and it will be a joyful experience doing so. After listening to the rough files for quite a few weeks it will be insane to hear what Mr. Swanö cooks up mixing wise. That guy sure knows what we are after and as always I will have to bitch about the bass sound until he gets it perfect, as he always does.
The recordings have gone almost according to plan. Ruby got sick when she only had 2 songs left to do which meant we surpassed our personal deadline with a day or 3. But fear not, everything is still going as we want them to. And as the heroine she is, Ruby pulled thru and did an amazing job. Here's what she has to say about the recordings:
"- It's a wrap, I fucken did it. After 2 weeks of being sick and with my voice all cloudy due to the weather changes I finally ended my part for this masterpiece! A handful of dark and mysterious songs made my job a bit harder than I thought, but with my head and eyes focused in the dark ( yes, I recorded the album in the dark… no lights), I nailed it and honestly, I did a hell of a job . The songs with me, Tobben, Jörgen, K and all the guests make us practically unbeatable in what we do together as a whole. Magic… Dark one! It's been a long road, alot of hard work and alot of feelings invested, but in the end it's more than worth it. To sit here writing to you guys while listening to the songs, makes my heart skip a beat, that's how strong this album is. What can I say more? Well… just keep waiting because the wait will be more than worth it!
Obrigado !"
We will get back to you during this mixing process and let you know how everything is coming along. We will also reveal guests and whatnot as we move forwards. Still alot of work to be done to make this perfect. but now our part is completed. It's all in the hands of me and Swanö to make it come out as we want it to. Well, mostly Swanö coz i will just bitch and nag about details until he feels like he wanna punch me in the face. But that's the great thing with D, he's excellent in all areas and got patience like a muthafucker. I guess his salary helps too, haha…
Anyways, stay tuned for more updates.