You fucken guys made it happen again!
It feels like I have said this a million times during these Experiments, but I can't really thank you fucken guys enough. The last money came in overnight, with another lunatic donating 500 bucks alone, making us breach the last level. But no matter how much you have donated, it has all helped us to reach the $10000 target to make "Death Ritual Covenant" come to life. And as said, you'll never know the extent of my gratitude for it.
For me to to be able to do TPH still to this day, 19 years has passed since its inception, means the world to me. It is my goddamn calling. And to be able to do it like this, and be able to hire the most phenomenal people around with your monetary support to fulfill my very egoistical vision, is a diabolical blessing.
It's not like I can live off TPH and the enormous sums of money that it brings in on a regular basis. I, like most others, work a fucken day job and spend all the time I can with creating music outside of that. Which makes it even more fascinating to me how fast "Death Ritual Covenant" came together material wise.
After the release of "Of Chaos And Carnal Pleasures" I didn't expect "Death Ritual Covenant" to write itself like it did. And how I am working with this absolute beast of an album. It's quite insane, really. When I'm not working I'm up at 4 in the morning accompanied by my headphones and a cup of coffee, dissecting every little detail within the music until I feel it's perfect. Step by step there's less and less to do for me, and eventually I come to that special feeling when I know I've done everything I can with the music and it's now out of my hands. My work is completed.
When it comes to "Death Ritual Covenant" I am almost there now after thousands and thousands of hours.
Now it's time for Jörgen Sandström​ and Ellinor Asp​ to bring in their fantastic vocals. It's also time for Mr. Dirk Verbeuren​ to put down his drums. The fact that I can still have Dirk play on my music is mind boggling. He's now playing with one of the biggest metal bands in the world, Megadeth​, but STILL he takes the time to do TPH. I didn't think that would happen, to be honest, after he joined the mighty Megadeth. As said… mind boggling. Candlemass'​ lead virtuoso Lasse Johansson is expected to enter The Dungeon in February to put down his incredible solos. This is something that is also extremely weird when it happens, having my childhood guitar hero in my home studio, playing on MY music. Sure, he's done that a couple of times now, and I have had the honor of helping Candlemass out on bass for a bunch of gigs, but it's still surreal to have that gentleman here putting down his stuff.
I can't promise anything since I can't control people's schedules, but the plan is to have everything completed during February/March. Nothing will be rushed though, as always. "Death Ritual Covenant" will be finished when it's finished. I can't have it any other way. After that it's time for Mr. Swanö to put it all together in Unisound AB​ and give it the proper mix and mastering. I won't guess a release date, but I'll make sure to keep you guys updated during the whole process so you know where we're at.
A few more other things before I let you go this time…
We are currently putting together the album cover for "Death Ritual Covenant" and it should be completed real soon for your viewing pleasure. The shirts I have mentioned will also be up for pre-orders real soon (as you have guessed from the blurry pictures this shirt has something to do with the actual cover, which is why I haven't revealed the design yet). I wanna send a huge THANK YOU to Seiya Ogino​ of Ogino Design​ and the always amazing Marko Saarelainen​ for their collaboration on all of this. You guys are beasts!
When we did the 3rd Experiment I believe 211 people brought us to the monetary goal. This time it took 191 of you muthafuckers over a span of 86 days to get there!
I salute you all!
Oh, if you're one of the people who couldn't contribute to the 4th Experiment for various reasons but still wanna have the album when it's completed – you can of course PayPal 150 SEK to theprojecthate@gmail.com for the digital versions. That will be MY payment for the time invested in "Death Ritual Covenant", so it's for a noble cause, no?
With all of this said, keep an eye open for the coming shirts and also make sure to check out our Instagram page where I do smaller updates every now and then on the album progress and other things. I tend to keep the larger updates, such as this one, for this website and Facebook, just so you know. Last off, here's how the donation process went: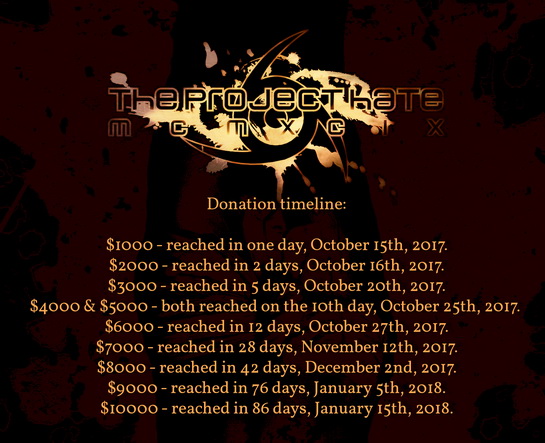 Now it's time for me to inform the other people involved with "Death Ritual Covenant" that everything can begin.
Again, thank you so fucken much, you heroes!