As we said previously, Tobben is rehearsing the stuff for his recording sessions starting in a few weeks. Here are a few words from the Golden One on his drumkit that is set up for this very occasion.
"- Yesterday I realized that my kit, as it looks in the pictures, actually won't fit in the studio, so I decided to ditch the second ride cymbal to my left in my setup. It takes too much space and I only use it for one part in one of the songs so I think I can afford that. I'll use the hihat or the LP Bell instead for that part. But I'm gonna add another nice little thingie instead.  I've stacked two Meinl Classics splash cymbals together (8″ and 10″), which create a very tight, bright and aggressive sound that is great for accents and it blends perfectly with my other splashes too."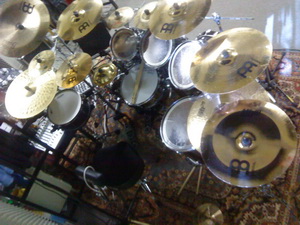 Safe to say, Tobben is ready to lay down The Domination for this new album.