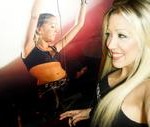 But no, she's not leaving TPH. Ruby's got this to say about everything:
"The Age of THE PROJECT HATE , The end of Witchbreed for Me!
1 – As some of you might know, i left Witchbreed due  to my health that doesn't allow me to  jump or bang my head until the other half of 2011 , it wasn't fair for me to delay witchbreed's work so … They are now looking for a new singer.( THIS POINT IS CLEARED)
2 – I AM NOT LEAVING THE PROJECT HATE , I am with them as they are with Me, as you know TPH  don't tour, so it doesn't affect my life with them and even if they did tour, after May, i will be ready to rock the stages again ! So be prepared because  RUBY & TPH are Forever!  ( THIS POINT IS ALSO CLEARED)
So IN THE FIRST HALF OF 2011 THE ALBUM OF TPH WILL BE OUT AND YOU CAN STILL HEAR MEÂ  MAKE SOME SERIOUS DAMAGE!!
HAIL AND SEE YA SOON !"
Witchbreed's official statement
can be found here
.
We wish them all the luck since they are a great band.
So, fear not. Anything and everything concerning TPH will be announced at our site and our forums always.