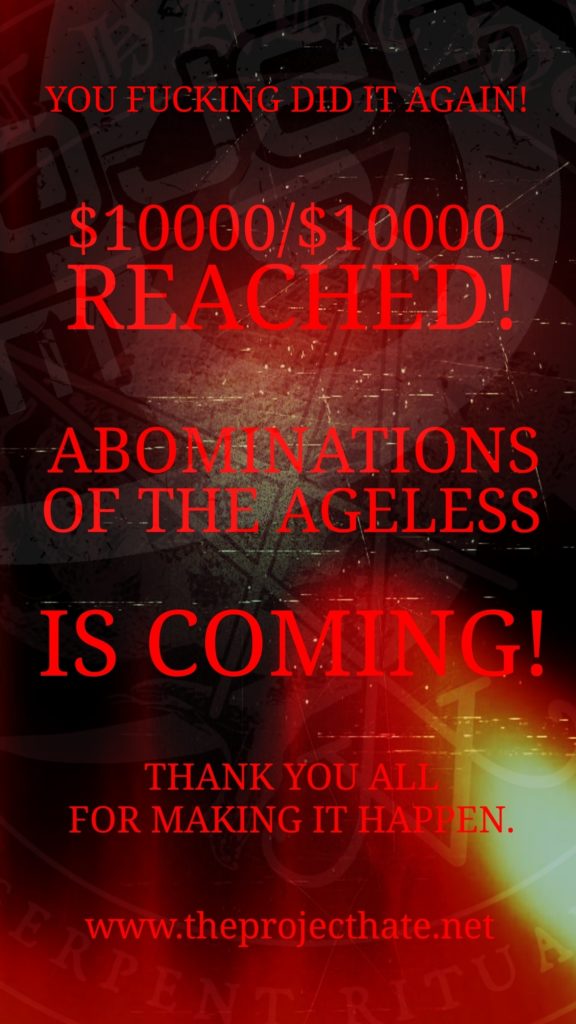 Yesterday we were at $9200 of the $10000 budget. That was $800 short of target.
Today The Experiment has reached its goal.
I. Am. Fucking. Speechless.
This Wednesday, May 17th of 2023, I got a second PayPal donation from this particular hero. And it was for…
EIGHT. HUNDRED. FUCKING. DOLLARS.
With a note stating nothing but "It's time".
Again… I. Am. Fucking. Speechless.
You know who you are, good sir, and you also know the extent of my gratitude.
—
190.
That's the amount of people who have taken part in the 7th TPH Donation Experiment. Exactly 190 of you have raised $10000. That is completely batshit insane! I'm having a hard time fathoming this, that so "few" of you believe so much in what I create with my beloved cohorts that you make it possible time and time again.
Coz fuck knows I have very much doubted, more than ever before, that this would work out a 7th time, for obvious reasons considering the state of the world and all the other shit that goes on right now.
I have told you this numerous times, but it must be repeated; I will never, ever take this for granted. It's a downright privilege to be able to create TPH today as you know it by now, coz it just can't be done without YOU people. And for this, you have my sincerest gratitude. It's fucking mind boggling, this is.
But you did it. You 190 people did it! There will be a 15th goddamn TPH album in 2023! Unless the world goes down in Nuclear Armageddon before the year's over.
As promised, it's time for you to know the title of this coming 79+ minute behemoth (pretend you didn't already see the picture in this post, ok?):
ABOMINATIONS OF THE AGELESS
Yep, that's the title of our 15th album. I wish I could show you the cover art but since I haven't seen it just yet that will have to wait a little longer. I'm promised it will be completed in June so as soon as I have it I will reveal it.
—
A day or 2 ago I made a massive rant about everything; where we are at recording wise and so on. I suggest you read through that post coz all that info is still extremely relevant and it details the plans I have as far as mixing and whatnot goes. Just click this link.
Now when the monetary target is reached all I can do is to wait for everyone's material to be sent to me so I can start arranging everything for the mix with Dan Swanö of Unisound. In the meantime I will be tweaking some details within the music like I always do before the BIG work goes down. I will keep you posted on everything that I consider being of value when we begin this last part of the process.
But for now and up until I start getting the final vocals from Ms. Asp, the drums from Dirk Verbeuren and the cover art from Seiya Ogino of www.oginodesign.com, there's not much to report. Let's just all fucken raise our glasses to all of you who once again made The TPH Donation Experiment a success! You people push me to levels I never thought I was capable of reaching.
As I have said before; you are all TPH.
THANK YOU!