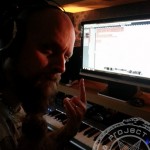 While you guys are preparing to celebrate New Year's Eve I am celebrating the completion of the first round of strings for song number 4. After getting some 14 tracks of string orchestrations for this one I consider it to be pretty much wrapped up. This means there's 4 down and 2 more to go before I move into the next phase of building this beast. I have told you earlier that I have never worked so hard on anything before as I do with this new material, the same goes for all the orchestras. To see layer after layer building the vision is amazing and there is zero doubt that this one will be something out of the ordinary yet again, and without a doubt it'll be the grandest thing TPH's ever done.
As mentioned before I plan on spending the better part of 2014 on this album, maybe it'll be completed during the coming year even – that remains to be seen. But if things continue to move forward as they have so far – we are advancing at rapid speed. Also as told, I have so many ideas for this. At the moment I won't reveal anything, you'll just have to wait and see what happens with it all as we go along.
I will keep you informed every now and then when something of importance is achieved, but for now I'll go back to this blasphemous creation coz I have devilry to attend to.