Archives
Archive for March, 2009
That's right… And we have a huge update coming your way asap, we just need to work with some stuff before it happens – but hang in here. It will be worth the wait. And yes, we will give you teasers and whatnot when the time is right. Same goes for album title and everything else that comes with this fantastic album. Just stay tuned.
Hate has never been a stronger force.
In some 26 minutes I will have the supposed to be final mix in my hands to go through and see if everything is corrected and so forth. A few days ago me and Dan did the last corrections that was needed and since then Dan's gone thru the album and fixed some small additional stuff, so now we are fucken getting there.
If Dan's not forgotten anything in this mix it will be THE FINAL ONE and the album is finally completed and ready to be mastered and sent to Vic Records for the release.
I'm so pumped up about this and it will be a joy to go thru it and hear what we have accomplished this time around. This is it, the work with the album is 99% done, now all I need to do is listen closely to it a few times so there are no fuck up's or drop-outs or anything.
This is a very very fantastic day and we have a sign of things going as we want them to as shown in the picture below… Song number 2 on the album starts at the following marker, and we actually didn't manipulate this one bit whatsoever. And that is serious.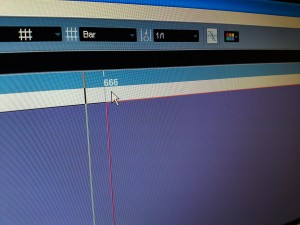 Expect more updates shortly…
On behalf of The Hate /
Now we are real close to wrapping this bastard up…
I got the mix from Dan (after he got my first corrections-to-do) some days ago and just went thru it again during a long fucken bath with nothing but the album accompanying me so I could fully concentrate on everything that this monster contains… There's such an insanely evil aura to alot of stuff here that really gives me the chills, as if something truly wicked is present on the album. This is a album to devour in the dark, by yourself on loud volumes. There's so much to discover, so much to absorb… You'll see… Oh man, you will see…
I'm off to Swanö tomorrow to make the (hopefully) last corrections and after that it's time to deliver this thing of beauty and blasphemy to Vic Records for the release.
You will get more updates as we wrap this up coz there might be some nice treats for ya coming…
On behalf of The Hate /
Mr. Swanö's now got his hands full this weekend for the first corrections of the mix that is needed. He's done an amazing job with the sound but there are some stuff that we are not fully satisfied with that Dan will take care of to try to please our asses. The album sounds absolutely fantastic, that's for sure. Once again we are very happy that Dan is the man to handle the mixing, making this album everything we want it to be. It looks like this masterpiece will be fully completed within a week or two, then it's off to Vic Records for printing. Vic's been awesome to us so far so it feels really great to be on board with them.
Marko Saarelainen is currently working his balls off with the album cover and the booklet, and believe us – not only have we outdone ourselves music-wise, Marko's been outdoing himself big time with this beautiful package that is coming your way.
As you understand, the album is being very close to be completed now and as soon as we can we will announce the release date and hand you some teasers (perhaps we have some nice surprises up our sleeves until the album is out too).
A huge-ass report on everything will come as soon as as it is all done.