Archives
Archive for February, 2013
Starting today, you can buy the album/individual songs at CD Baby, but that version is not including the instrumental version or the different formats that you get by purchasing it directly though us. You have the option though, and it's better than stealing. Since Judas is everywhere it's better to have legal options available for the people who want to do the right thing. Having it at CD Baby 3 months after its release is better than not having it there. Spread the word, share the link on your Facebook and whatever else you see fit. And the link is as follows:
http://www.cdbaby.com/cd/theprojecthatemcmxix
Yes, they have unfortunately made a small typo in the band name, but they have been informed and a new URL will surface. Just use the one above for now until further notice.
Found a few leftover shirts so I'm putting them up here if you want to buy one or two. Sizes and quantity below: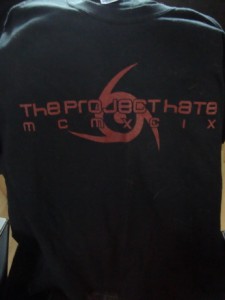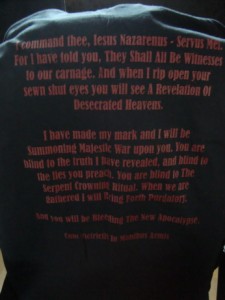 The red logo shirt (Brand: Gildan):
Sold out
—
"TCRA" shirt. No back print (Brand: Gildan):
Sold out
Preferred method of payment is PayPal to theprojecthate@gmail.com
Prices including postage, packaging and shipping to anywhere in the world:
200 SEK, 24 Euros or 33 US dollars.
This post at the official site will be updated with any remaining items in case someone buys one.
From time to time it happens that someone gets hold of what we do and truly understands what it is about on all accounts. In this case, "The Cadaverous Retaliation Agenda" has gotten itself a completely amazing analysis, which you can read in this link. This is the same guy who did a real good interview with me some time ago, and you can devour that one in this link in case you missed it up until now.
I can't really thank the guy who wrote said review enough. Let's just say that it's one of the best and most coherent reviews of any of our work that I have ever seen.