Archives
Archive for September, 2016
NO MORE SHIRT ORDERS BEING TAKEN!
First off, make sure to read the post below this one in case you ordered a shirt sized 3XL and above, ok?
Second, thank you so much – all of you who made it worthwhile to go thru with this shirt. I'm extremely happy to see that as many as 80 or so people decided to purchase one. I truly appreciate the support, let that be known.
Now I will place the order with the printers at Helloil and I should have everything delivered to me within a couple of weeks. When the shirts have arrived it'll take me an evening or 2 to pack everything before bring able to send them on their way to you, Haters. I will of course keep you informed on the process as we go along. Just keep an eye on this page. Also, I'd appreciate it if you let me know when your order arrives eventually.
As always, there's been a few pre-orders from people who haven't bothered to pay for their claimed items just yet… These shirts will be up for grabs later on if payment doesn't come in. Keep an eye on that, ok?
As soon as everything is sent out you'll be notified at our official Facebook page.
Last off, huge thanx to Seiya at Ogino Design for the excellent work for this piece of merch. You're awesome, my friend.
Now, stay tuned for "Of Chaos And Carnal Pleasures", planned to arrive by the end of 2016.
It will be glorious.
Cheers!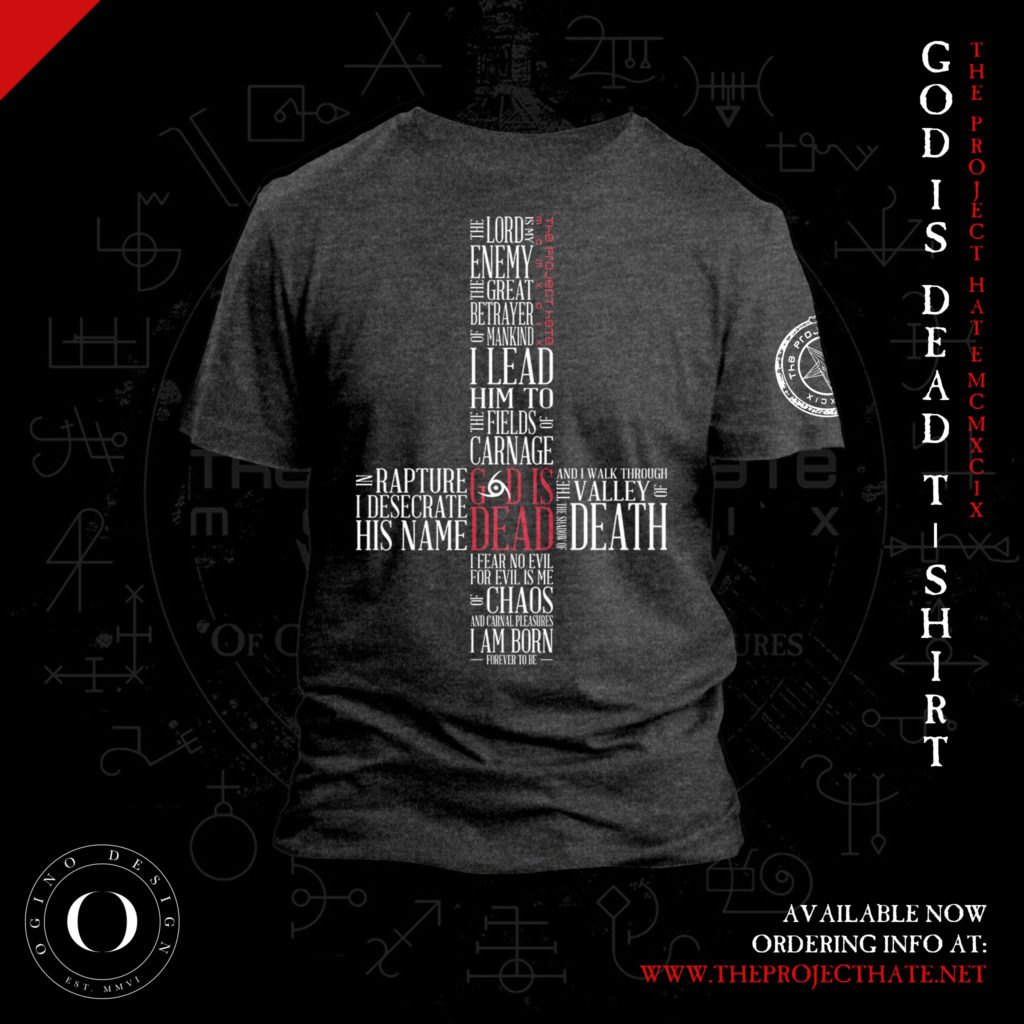 Most of you prolly know that we are recording and finalizing our coming masterpiece entitled "Of Chaos And Carnal Pleasures" right now, planned to be released in late 2016 (I'm looking at December if everything goes according to plan, which it has… so far… knock on wood). And… THIS IS A CAUSE FOR DIABOLICAL CELEBRATION!
So, let's celebrate it with a brand new limited edition t-shirt!
This post is about just that – to make you Haters aware of the fact that I am printing some 50 or so of this spectacular design that is made by the very talented Seiya Ogino at Ogino Design.
Obviously, I'm not doing merch too often nowadays for TPH… simply becoz we hardly sell any. It's more work than it's worth to be honest. Let's try to change that up for this one, huh? Wouldn't that be fucken glorious?
Yes, it sure would.
I will take pre-orders for this shirt up until the 25th of September, meaning you have almost 3 weeks to decide if you wanna have this beautiful piece of clothing in your TPH collection or not. We won't print any more of these gems after this run is made, just so you know. If this one sells like shit, there might not even be any more TPH merch in a very long time, for reasons explained above.
You still here?
Good, then let's continue.
The reason why I do this pre-order thing is a non-brainer – I don't make much money off of TPH, which prevents me to print a huge batch of shirts in various sizes – just to have them laying around unsold at the end of the day. By pre-ordering you make it possible for me to see how many shirts I can order from the manufacturing company without worrying about bankruptcy, at least kind of. This is the absolute beauty of the DIY thing, you know.
So, feel free to put your order in if you're interested in supporting TPH more than you already have. I'll send everything out in October as soon as the shirts have arrived at TPH Headquarters. As always you know you'll be continuously informed about how everything is moving along with the shirts, preferebly on our Facebook page.
Here are the technicalities for both the shirt and how to go about to order:
Shirt brand is Gildan Ultra Cotton, best quality on the market.
Seamless twin needle 2,2 cm collar.
Taped neck and shoulders.
Quarter-turned to eliminate centre crease.
Twin needle sleeve and bottom hems.
Material: 50% Cotton / 50% Polyester.
Weight: 200 g/m².
Sizes: S, M, L, XL, XXL, 3XL, 4XL, 5XL
The print might differ a little bit in size in real life compared to the picture included here, but we always aim to print as large as possible.
Most bands print black shirts. Same with us. But this time we wanna make it a little more special, so we're using a color called Dark Heather for the shirts. That means the shirts are dark greyish and absolutely awesome looking. You can see the exact color in this link. Quality de luxe, ladies and gents
And here's the info as for how to go about to buy a shirt or five. Prices are including postage and packaging to any place in the world. If you wanna pay in a currency besides SEK, US dollars and Euros are fine. Just make sure to check the exchange rate so it's 200 SEK in the end.
Prices:
200 SEK
24 US dollars (equivalent to 200 SEK according to today's exchange rate).
21 Euros (equivalent to 200 SEK according to today's exchange rate).
Different ways to pay:
1. PayPal: theprojecthate@gmail.com. Make a note saying "GOD IS DEAD SHIRT" + size(s).
2. Make a transaction to the TPH bank account:
Account holder: K. Philipson
Account for Swedes: 8164-6,4 234 547-0
Account for foreigners:
IBAN: SE60 8000 0816 4600 4234 5470
BIC: SWEDSESS
Bank address:
Lekebergs Sparbank
Box 66
716 21 Fjugesta
Sweden
When you have paid and put in your order, e-mail me at theprojecthate@gmail.com with your order as well, just to be sure everything comes thru. I will always confirm that I got your order so if you hear nothing – contact me immediately so we can work it out. And please, do not forget to include your address in the mail and over at PayPal.
Last off I think it's appropriate to plug Ogino Design's various platforms since he's done such an amazing job with this shirt for me. So if you need some graphics work, don't hesitate to contact him, ok? Here you go, people:
Official website.
Official Facebook.
Official Instagram.
I thank you for giving a shit and for always supporting what I am trying to accomplish with TPH.