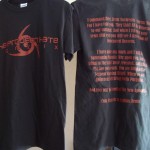 It seems like it, so here we go. Care to buy the new shirts from us so we can get rid of them, perhaps? I'd appreciate it. There's a bunch left and if you are a Hater you sure want this one, don't you? All the info you need is available in this link. Do your duty and spread the gospel of The Hate. And while on the subject of trying to get rid of our merch, we also have but a few CD's left of "BTNA". We wouldn't mind if you actually bought one of those as well. If you want a shirt and a CD, e-mail me at theprojecthate@gmail.com and we'll work out some discount thing since there are just a few of these left. Also, the occasional "In hora mortis nostrae" disc is available. Cheap too. There's no need for these items to to gather dust, so help out here.
In other news, the orchestration work for the second track is still in process and it sure takes time to make it all perfect. I can't wait to finish this one up and head over to the next tune. And the next… And the next… It's all working out excellent and to just know what the other guys will bring to this material puts a smile on my face. We are definitely enhancing the Domination by the second.
Keep checking in here and also – participate on the forums.