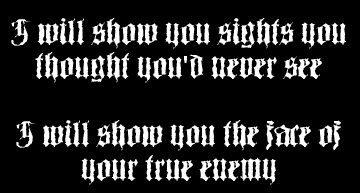 Yes, as the title of this post says – the lyrics are completed. After some hard work I got all of that stuff down and the only thing left is to (eventually) fine-tune some small parts to make it (even more) perfect. Now I'll make the demos for J so he knows what I have in mind vocal wise, then he adds his own unique touch to everything and makes it so fucken dominating you'll shit bricks when you hear it. Like he always does. Now the main work of mine is completed, I'll just go thru everything from time to time to see if anything needs changing (a process I have grown best buddies with as of late, haha) or improving, but this album really feels special on so many levels. You'll see.
As mentioned, we have absolutely stepped up on all accounts and now the real fun part for me starts when I finally get to hear what the rest of the guys will deliver, how they will glue this masterpiece together and make it all completely mindblowing. Still, tons of work left – but seeing this monster shape up to match my vision is just phenomenal. I have also decided to give you a small, instrumental snippet from one of the tunes in this state, simply becoz I know you want one. Nothing fancy – just domination.
Enjoy, and stay tuned for more updates.