Archives
Archive for January, 2012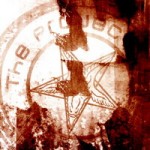 Lyrics are being written, songs are being enhanced, guest spots are being picked out, and we are creating the finest moment of our career. Piece by piece this monster is coming alive. Not too much to inform you Haters about, but let it be known that we are working our asses off to make this album something real special.
Feel like supporting us? There are shirts left that you can buy. Or you can simply make a donation and have your mail address added to the list of people who will get the album in your inbox as soon as it's done (which will still take quite some time, but hey…).
Now I go back to working my ass off.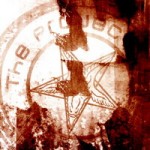 I just wrapped up the 6th and final track for the next album. "- But, you said you were going to do 7 tracks?!", I can hear you say. Well, yeah – I did. But the thing is – J's been pissing down excellent ideas to me over the last week (yeah, I know – I am as surprised as you are, haha), which means this 6th tune will be the final one for a reason. We are already over an hour worth of playing time, but I won't say more than that right now, hehe… You'll see when the time comes what we're up to.
Now when these 6 tunes are "finished" (lemme stress this since it's very important: when I say "finished" I mean the songs are like 90 percent completed. The detail work begins now, when I really start to add everything I know I want in the songs – making them absolute behemoths in the end) I will launch the massive campaign of writing lyrics, pick out guest parts etc, etc, etc… This is the beautiful process. The main work is done, now it's time to complete everything and fulfill the vision I have in my head when it comes to this album. Fuck knows I have been working my ass off more than ever with this one. We are on a new level and I am so proud of what we are creating this time around. The fact that The TPH Donation Experiment actually became a reality has pushed me harder than ever to go out of my ways to compose our finest piece yet. To me, at this early a stage even, it is without a doubt just that.
We will keep you informed about everything here and over at our forums, so you know what's up concerning this album that you have made sure will come alive. Feel free to sign up to said forums and ask us about anything you like. We're there quite often and definitely take pride in interacting with you, Haters.
Now, walk with us towards Armageddon – one step at the time. This will be beautiful.
I don't even know where to start, but bare with me for a while coz I got quite a few  things to say right now.
We have reached the target of 5000 dollars in donations to be able to record our next album. Read that again: We have fucken reached the target of 5000 dollars in donations to be able to record our next album. I am speechless (good thing I can still write or this update would be quite the silent one). You can devour everything  about The TPH Donation Experiment in this link in case you have missed out on what it's about. I recommend you read it since it explains everything. So, let's see now… where to start?
Yeah… There were The Internet Keyboard Ninjas… People who thought we were fucked with this experiment. People who actually took pride in mocking our decision to give up on the record industry and do this by ourselves together with The Haters. Obviously – you were wrong. This could be done. It has been done. But seriously, I had my doubts as well, though I thought it was worth a shot considering how the business looks today with the illegal downloading killing labels and bands. But I still can't believe we pulled it off.
And the people who are into what we do with TPH… To see the support we have gotten from you guys is just mind-boggling. Absolutely amazing on all accounts. And trust me when I say we can never thank you enough. We will thank you by bleeding in the studios though, by putting our very best into this coming recording and hand you a killer album on all accounts. You who have followed the updates on the song writing over the course of 2011 know that I have some serious confidence in this new material, and it's not like I go easy on myself when it comes to composing for TPH. When I noticed that it looked like The Experiment was going to work I entered another phase of my musical career where I felt such a drive to compose and perform better than ever before.  And it shows in this new material. This is the hardest I have ever worked on anything, and I am not even done yet. The plan is to have this album recorded in 2012, as stated numerous times before. At the time of writing this I am completing the 6th track out of 7 planned ones. Thing is, the playing time for these 6 are about an hour, and that is definitely enough for an album – but I want 7 on there becoz I have so much stuff I need to bring to life, stuff you deserve to hear – and this album is special in so many ways due to the circumstances that I want us to give you everything we possibly can.
As soon as these 7 tracks are completed it's time for me to work all the lyrics, vocal parts and details – which is a huge and insane process – and I love every bit of it. It will take time, but it has to – this is, to me,  our most important album so far. I guarantee you won't be let down by it.
We all know I run TPH with an iron cock and some piss'n'vinegar. It's a very ego-centered musical project, and it always was. But this needs to be made clear: to have Jörgen, Tobben and Ruby (not to mention all the fantastic guests who join us on every album) helping me to create what is musical perfection to these ears is just extra-ordinary. Not only are they the best musicians I have ever played with, as well as very close friends – the fact that they give blood, sweat and tears for me and my vision is something I can never thank them enough for. I can't fucken wait to hear what they will deliver for this new material. I just couldn't do this without them.
Again – about eventual physical CD's – read this post. I am not starting up another donation experiment for this since I am not sure it would work, but lets put it like this: feel free to keep them donations coming if it's money you think you can spare. If we would eventually reach the money that's needed for printing CD's, we'll do so. If not, we can use it for printing shirts or whatever. But just donate if you think it's money you can do without and you think it's for a good cause either way it gets used in the end.
Again, my sincerest thanks to all of you people who donated a buck or a hundred to make sure this album would become a reality, and all of you who spread the word about the experiment. During 2012 you'll see what you could have missed out on. It wouldn't have been pretty.
Now I will go back to composing (follow the process on our forums and at this site) to make sure this piece will be everything I want it to be. To be honest – I expect it to be everything.
Thank you. So much.
I seriously have no idea what just happened, but take a look at what has taken place over the last hour or so since the last donation update: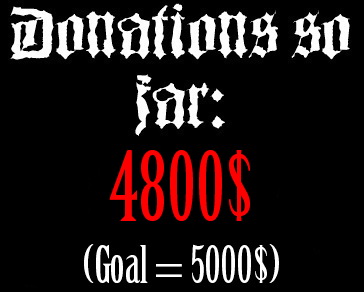 People have obviously gone nuts and donated another 200 bucks altogether in very short time. This is just unbelievable – we are 200 dollars short of the target now. I don't really know what to say except for – thank you so much for making this album come alive.
Today an anonymous Hater donated a hundred dollars (and a few others have chipped in some some donations too), which mean we have now crossed the goddamn 4600 dollar level! Muthafucken four thousand six hundred dollars, people. We are 400 dollars shy of the goal. You guy have made this a reality and we can never thank you enough. Just 400 more dollars to go to have the recording covered. Marvelous. I am in the middle of some serious composing, as mentioned before, and things are definitely moving forward big time. This will be the finest piece of our career, without a doubt. Keep spreading the word, Haters.
Stay tuned for more updates as we go along, as always.