Archives
Archive for August, 2013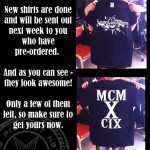 At this very minute of posting this, there's only 11 shirts left. Click this link to see if the quantity has changed, how they look, prices and so forth – and then place your order so you can show your support to The Hate when you walk the dirty streets of your hometown.
I thank you all.
Insanity… 10 years ago, in April, we entered Soundlab Studios and recorded "HDCE", a very special album on all accounts. Still to this day this album holds up on all accounts and the production work is just mind blowing. The late Mieszko really nailed it there.
August 25th, 2003 this album saw the light of day…
In case you missed out on it when it happened, here's the studio report for the session of recording "HDCE".
Oh, the sweet memories… What's yours?
Taking a little break now before starting to work with the last planned track (you never know about this though…) since I have some Torture Division gigs coming up that need my attention.  And boy, the stuff already "completed"… this shit kills on all kinds of different levels… Already well over an hour composed.
We're doing it again…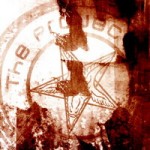 That vacation I planned to have didn't last too long. For some reason the fifth tune for the next album is now completed as far as the body work goes. Inspiration, inspiration, oh how great you have been treating me lately.
I will deal with all electronics and whatnot for all the material when I have the tunes for the album done, and that will take some insane man-hours to complete, safe to say. After writing this one I have a hard time deciding which, at this point, will be the opener on our next opus, coz I thought I had it nailed when I did the 4th track… This 5th one is a strong candidate for that spot now… Luxury problems.
We'll see when the 6th (and last song) will be written, I am not rushing anything at all. To beat "TCRA" will be a challenge, but when I listen to what I have created so far – there's no doubt in my mind that I have taken our music to another level once again.
You'll see.
Update August 26th: Below is a picture of the actual shirt.
Beneath the picture you can see what sizes we have left (updated as soon as a order comes in), and how many, in case you wanna order one or two of these bastards. These are the only shirts that will be made of this print, so grab it while you have the chance.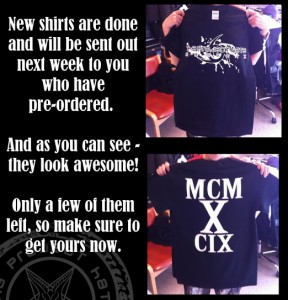 SOLD OUT!

—
I thank you for giving a shit and for supporting The Hate.