Archives
Archive for July, 2019
Boom! All shirt parcels have been posted. Now the Swedish postal system will use the 2 vehicles they have at their disposal to bring your stuff to you. Or they'll at least get it out of this country and let your postal system work wonders for that last part. Again, thanx for buying the Anniversary shirt, making us breach the $5000 level for the 5th TPH DONATION EXPERIMENT by doing so.
Wanna help us get to $10000 so our 13th album can be a real fucken thing? Information as for how to do so in this link.
Keep your eyes glued to our social media shit in case you wanna get one of the spare shirts that I will put up for grabs asap, ok? When those are gone, there are absolutely zero shirts left.
Cheers!
Sure took some time to put these albums there, but hopefully this will help The 5th TPH Donation Experiment at least a little as we go along. The struggle is real, as they say.
If you for some reason feel like buying our last 4 masterpieces through that platform, you can now do so by going to our Bandcamp page located at https://tph666.bandcamp.com
And yeah, to you who have asked me quite a few times over the years… I would have loved to be able to put ALL of our discography there but obviously I don't think the labels who released those albums originally would approve and applaud the act, so… fuck that noise.
Anyways, spread the word, will ya?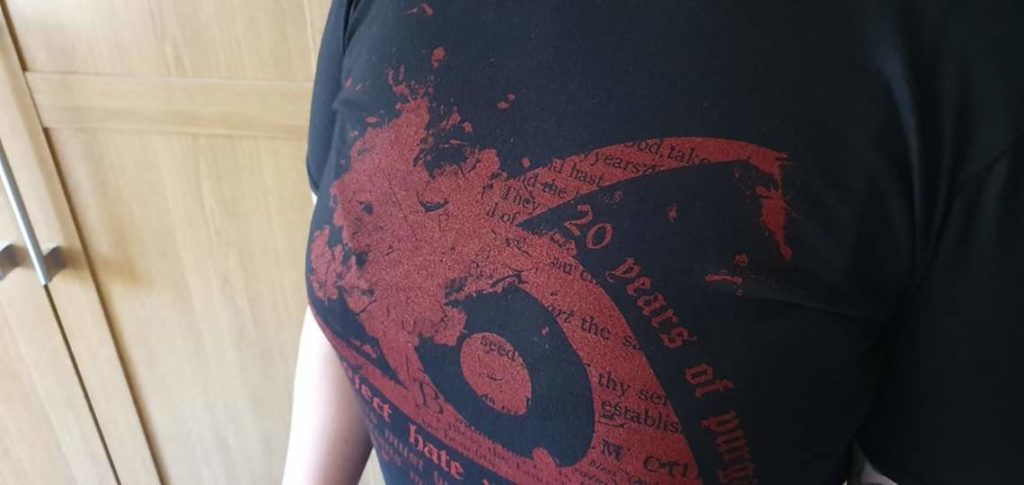 Wall of text incoming!
The shirts have arrived and they look fucken amazing as expected. This means I have started to do all the work needed when it comes to packing and shipping these beauties, such as writing customs declarations, putting addresses and postage on the envelopes etc etc… This sure takes a bunch of hours so the plan is to have everything ready to be shipped during the coming weekend. I'll let you know when it has happened, as always.
Huge thanx to www.oginodesign.com for the art, www.helloil.com for printing these shirts and to YOU who bought it, which helped a bit monetary wise when it comes to the recording of our coming planned 13th album.
While on the subject of this 13th album there's unfortunately a complete standstill when it comes to the 5th TPH DONATION EXPERIMENT. We're like $800 short of even reaching $6000 out of the $10000 needed.
So, your help is truly needed! Spread the word, point people in this direction for all the info they need if they feel like helping out:
As reported previously (as to not delay the process more than necessary) I have started to pay everyone involved with the means available, but if this standstill continues it will most likely take way longer than I hoped for when it comes to completing this album (if we even get to that point of course).
Sure, it's taking a chance paying people at this stage, but hey… Can't play everything safe all the time, right? A half-finished album must be better than no album, right? Haha… Yeah.
As I've said before, this looks to be the longest EXPERIMENT yet… Maybe people have had it with wanting to chip in? Maybe this particular formula is dying? We'll see.
If memory serves me correctly, 211 people made our latest album come to life. We're just above 150 people so far and still have roughly $5000 to go, so… yeah. Fuck do I know?
Conclusion: this fucken beast will obviously be finished when we have reached $10000 and all I can do is wait for it to happen and work my ass off on it in the meantime. I have no choice. I must do this. It's in my blood.
Last off I wanna hand out yet another HUGE thank you to Dirk Verbeuren who really plugged TPH and the 5th EXPERIMENT on his show on www.gimmeradio.com today. Truly humbling and very, very appreciated.
With all that out of the way, be great to each other now and we'll talk again when all the shirts have been sent out.
Cheers, Haters!
I have decided to change from Fruit Of The Loom to Gildan Soft Style. You shouldn't have any problems with this change becoz the quality is absolutely excellent. The reason for this change is that I am currently wearing a Behemoth shirt that is Gildan Soft Style and I always thought it felt so smooth and excellent. The way it fits feels so much better than the regular shirts, so… there we go.
I'm wearing XXL on both brands without problem, so there should not be any issues with that. I believe Soft Style is made up to 2XL, possibly 3XL. Bigger sizes get the regular shirt, but that's how it always work.
If you're unhappy with this change and want a refund, you can of course have that. Just email me at theprojecthate@gmail.com and we'll sort it. I'm only doing this becoz it ups the quality of the anniversary shirt in my opinion.
Oh, and no matter what the picture says, you can't pre-order this beauty any longer. I will list eventual spare shirts for you all when everything has been sent out in a few weeks. Keep your eyes open for that if you feel like purchasing one.
That's that.
Cheers, Haters!
Orders for the Hate Anniversary Shirt are now stopped!
Huge, huge thanx to you who have bought one, it made us finally reach (as announced a few days ago) the $5000 level towards the needed $10000 for our 13th album, so again; thank you! Now I will send everything to the printing company which means I should have everything ready to be shipped in a couple of weeks. I'll keep you informed on everything as always.
One last thing; when I have sent your packages the deliveries are naturally out of my hands. If you're in a country where you know you have problems with the postal service (lost/stolen parcels) I strongly suggest you pay for registered mail with a tracking number (to where that applies, which isn't all countries) coz I can't take any responsibility for them getting to you after I have posted them.
Depending on where you live, registered mail is something like 110-130 SEK. If you want this, contact me for exact details.
That's all for now. We'll talk soon again.
Cheers!