Yeah, some time ago I asked Guger, the guy responsible for this FANTASTIC design (as well as the last one and the recent ones for Torture Division), to come up with a new blasphemous theme for another TPH shirt. I believe he outdid himself with the artwork for this shirt. So I thought: Why the fuck wait to print these ones, let's do it right away!
This is what it looks like:
Since I think that the last design was a little small in size I have talked to the printer to make sure they make the print as close in size to the picture below as possible. It might not be exactly as shown, but I really hope they understand what we are after. I will even try to get a test print before approving.
The brand of the shirt is Gildan, the best fucken shirt around and the one brand we have used for the Torture Division shirts as well, in case you own one of those. Nothing but superb quality. You know this already if you have ordered from us before.
I was thinking to print a bunch of shirts in advance, and pay for them myself but to be sure I won't end up with some 30 shirts in sizes no one wants (and making myself bankrupt in the process) I have decided to take pre-orders for roughly a month.
So, let's make this clear: I'll take orders until JANUARY 2ND, 2009. You can choose any size you want from XS to XXXL. Girlies are also available. Everything for the same price.
Thanx to holidays and shit I don't think the printer will be able to start doing everything until the start of January. This means the shirts should be at yer place around mid/late- January, 2009. I just want you to know this so you don't think I'm trying to rip you off or anything since it'll take a while before the shirt appears in your mailbox. I will keep you updated on everything in this topic.
The prices (including postage and packaging, shipped everywhere):
200 SEK
25 US dollars
20 Euros
And yes, you can order a hoodie too. It would look something like this: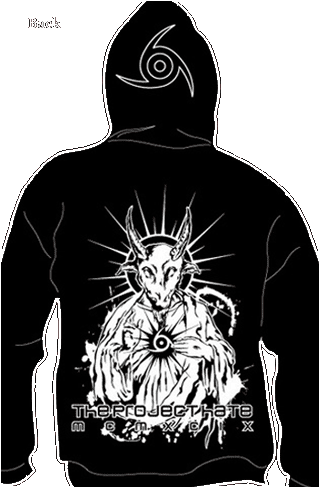 The front will have the TPH logo on the left chest with the 6's in it. Sizes from S to XXL. There will be no print on the arms.
The prices (including postage and packaging, shipped everywhere):
50 Euros
500 SEK
65 US Dollars
How to pay?
PayPal: The email address to use is theprojecthate (at) gmail.com.
And the old fashioned ways are still valid. So if Paypal ain't your thing just make a transaction to The Project Hate's account:
Skandinaviska Enskilda Banken: 5690 0243 150
IBAN: SE4850000000056900243150
Bic: ESSESESS
Or send the money thru snail mail:
Lord K Philipson
Höglundagatan 22
70368 Örebro
Sweden
AND MOST IMPORTANT: When you have done one of those 3, e-mail me at theprojecthate (at) gmail.com. Include your address, size and quantity, and also how you paid. I just want to have this for my personal record to keep track on things. And last off:
ORDERS WILL BE STOPPED JANUARY 2ND, 2009!
Thanx for the support guys. And thanx so fucken much to Guger for creating this one (and all the other designs he's done for us). You truly are one amazing individual, my friend..