In some 26 minutes I will have the supposed to be final mix in my hands to go through and see if everything is corrected and so forth. A few days ago me and Dan did the last corrections that was needed and since then Dan's gone thru the album and fixed some small additional stuff, so now we are fucken getting there.
If Dan's not forgotten anything in this mix it will be THE FINAL ONE and the album is finally completed and ready to be mastered and sent to Vic Records for the release.
I'm so pumped up about this and it will be a joy to go thru it and hear what we have accomplished this time around. This is it, the work with the album is 99% done, now all I need to do is listen closely to it a few times so there are no fuck up's or drop-outs or anything.
This is a very very fantastic day and we have a sign of things going as we want them to as shown in the picture below… Song number 2 on the album starts at the following marker, and we actually didn't manipulate this one bit whatsoever. And that is serious.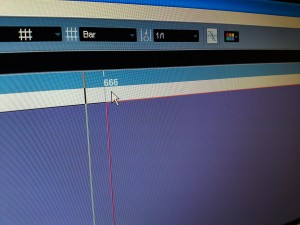 Expect more updates shortly…
On behalf of The Hate /